Ổ cứng di động Seagate Backup Plus 4TB giá rẻ HCM Gò Vấp
Giới thiệu ổ cứng di động:
The rise in popularity of USB 3.0 has enabled a large number of high-speed bus-powered storage devices. Flash drives and external SSDs can take advantage of the high-speed nature of the interface. They have slowly been increasing in capacity too, and we even had a 1TB portable SSD from Samsung earlier this year. Unfortunately, the cost per GB is still too high for the average consumer. From the perspective of that market, bus-powered external hard drives (2.5") are hard to beat. 2TB USB 3.0 drives have been around for some time now, but the 4TB mark in the portable 2.5" form factor had only been achieved with dual drives and external power. Seagate recently launched the Backup Plus Portable 4TB USB 3.0 drive based on one of the first 4TB 2.5" drives in the market.
The Backup Plus Portable 4TB USB 3.0 drive internally carries a Seagate/Samsung Momentus ST4000LM016 drive. Information about this drive is currently sparse on Seagate"s website. Suffice to say that this drive will not fit most notebooks (it is not thin enough). User reports based on the raw drive indicate that the thickness comes in around 15mm, which should be OK for NAS units and other applications. In any case, CrystalDiskInfo provides a lot of information about the internal drive.
It appears that the ST4000LM0016 uses five platters with a 800GB/platter design to achieve the capacity point. The USB 3.0 bridge chip also supports UASP and S.M.A.R.T passthrough. The unit has dimensions of 114.5 mm x 78 mm x 20.5 mm and weighs 541 grams. It comes with a USB 3.0 Type-A male to USB 3.0 micro-B male cable.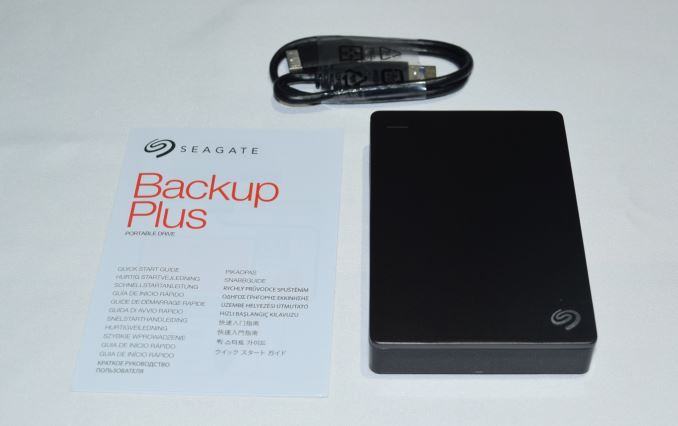 As portable hard drives become more and more of a commodity, vendors are attempting to put in value-adding features to the product. The Backup Plus Portables comes with 200GB of OneDrive storage valid for two years. In addition, we also have the ability to connect the unit to the Lyve app that provides photo / video management in the cloud. It also comes with a basic backup configuration software in the form of the Seagate Dashboard. We will be taking a brief look at these value added features after discussing the benchmark numbers.
A Long bán ổ cứng di động dung lượng 4TB mới chính hãng bảo hành 24 tháng 1 đổi 1 tại HCm Gò Vấp giá rẻ
Giá bán Box 4Tb Seagate: 3.500.000 VND
bảo hành 24 tháng
tặng bao da chống sốc bảo vễ dữ liệu
Bán ổ cứng di động 4TB chép phim kết nối tivi chiếu phim HD giá 3,5 triệu
Ổ cứng di động mới 100% - hiệu Seagate Backup Plus - còn nguyên seal - hàng xách tay
Thông tin liên hệ:
Hotline - 082.60.44.444 - A. Long 24/24
Mobifone - 0785.19.0000 - 0907.924.921 (Có zalo) -
Viettel - 0985.979.568 - 0972.699.698
Vinaphone - 0828.79.58.68 - 0886.8888.30 - 088.94.999.92
Vietnam Mobile - 092.15.78.77
(Khách cần tư vấn nhá máy Long gọi lại đỡ tốn tiền nha)
Địa chỉ - Hẻm 116/28 Dương Quảng Hàm P5 Gò Vấp HCM
(xem google maps "Ram Laptop Gò Vấp" hoặc đường số 10 cho chuẩn nhé)
Làm việc - 8H-22H hàng ngày.
----------
Đường đi bên 116/28 Dương Quảng Hàm (Gò Vấp)
Seagate 4TB Backup Plus Portable Drive Review
Seagate"s Backup Plus line of external drives will expand mid-July to include the 4TB portable drive (2.5-inch). This is the first portable SMR drive. This model will include all of the newest features of their Backup Plus line, most notably Lyve app compatibility, free OneDrive access, and social media backup capabilities. This portable drive comes with a NTFS driver for Mac, allowing users to cycle between Mac and PC systems without having to reformat.
Seagate included Lyve app compatibility in an effort to reduce strain on users" mobile device memory; Lyve uses the Backup Plus as the designated repository for all media. Pictures and videos captured on mobile devices are consolidated and viewable at any time for iOS, Android, and Windows devices. If users prefer backing up their mobile data directly to the Backup Plus without Lyve, they can use Seagate Mobile Backup app. A third backup feature of this device is the two-year 200GB subscription to OneDrive that Seagate has included (a $95 value).
The Backup Plus is the first backup device on the market that extends its backup capabilities directly to social media data; users can backup photos and videos from Facebook, Flickr, and YouTube directly to the Backup Plus via the Seagate Dashboard (which also provides one-click or scheduled backups for local, mobile, and cloud data). The device is also compatible with third-party cloud services like GoogleDrive and Dropbox, which helps it to consolidate most major data repositories into one central backup location.
The 4TB Backup Plus Portable Drive will be available mid-July for $240 and will carry a 2-year warranty.
Specifications
Design and Build
The most notable aspect of the Backup Plus design is its small size; it is roughly the size of a 2.5-inch drive. It has a sturdy black chassis with very little branding; just the Seagate logo on the face of the device. There is a USB 3.0 port on the side, which also serves as the power supply.
The bottom of the device is slightly textured in the shape of Seagate"s logo. There is also some branding and product information in one of the corners.
Performance
Our comparables for this review are the following:
We tested the Backup Plus Portable drive using a current generation MacBook Pro Blackmagic Disk Speed Test with a 5GB test file.
The Seagate Backup Plus posted 105.8MB/s read and 108.6MB/s write. The My Passport Ultra posted 109.1MB/s and 108.8MB/s in read and write, respectively, the Samsung P3 posted 122.3MB/s read and 129.6MB/s write, and the Seagate Seven 114.90MB/s and 113.MB/s in read and write, respectively.
Conclusion
The new Backup Plus line by Seagate has a new portable 4TB model that includes 2-year OneDrive access, Lyve app compatibility, and usability across Windows and Mac devices without reformatting. In addition to Lyve and OneDrive, the Backup Plus offers the Seagate Mobile Backup app, and third-party compatibility through the Seagate Dashboard. Users can also backup their social media data directly to the Backup Plus, which is an industry first.
The Backup Plus performed quite well considering it"s size and the fact that it is being compared to some of the market"s best drives. Although it had the slowest transfer speeds compared to the WD My Passport Ultra and Seagate Seven Portable drive, it has the highest capacity. The My Passport Ultra is one of the best-selling portable drives on the market, so the fact that the Backup Plus can keep up performance-wise is a great sign for Seagate. Though the Seagate Backup Plus Portable shares the same drive as its Samsung P3 cousin, it is just a bit slower.
Pros
Cons
The Bottom Line
The Portable model of Seagate"s Backup Plus line would serve users looking for an affordable way to easily consolidate their mobile, local, cloud, and social media data into a central location. Its Lyve app compatibility and Seagate Dashboard interface makes for a clean and intuitive product.